Get a Beautiful Smile with Dental Implants from your local South Pasadena Dentist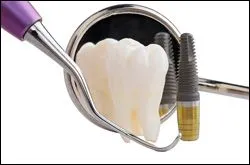 John Chu, D.M.D. offers dental implant solutions for patients with missing teeth that look and feel much like real ones. We know how important it is for you to smile with confidence, knowing that your teeth look great. We use advanced technology available to provide quality dental implants to our patients in the South Pasadena area.
Dental Implants at John Chu, D.M.D.
Experienced Team : The dentists at the John Chu, D.M.D. are highly experienced in effectively diagnosing and treating your Dental Implants needs
Personalized Service : Our doctors will work with you to develop the best individual treatment plan for you. John Chu, D.M.D. is committed to the best personalized service and quality care.
Financing Available : John Chu, D.M.D. accepts cash, checks, and credit cards. We also offer a flexible No Interest payment plan to help you pay for treatments that your insurance doesn't cover.
For more information please call John Chu, D.M.D. at (626) 799-0852 today!